We Are Everyone


Episode number
Season 2
Episode 3
Directed by
Michael Pressman
Written by
Craig Sweeny
Air date
October 10, 2013
Running time
43 minutes
Episode chronology
Previous
Solve for X
Next
Poison Pen
We Are Everyone is the third episode of season two, and the twenty-seventh episode of the series. The episode was written by Craig Sweeny, and directed by Michael Pressman. The episode premiered on October 10, 2013.
Storyline
Edit
Plot synopsis
Edit
When Holmes and Watson set out to track down a civil contractor who leaked classified information, their lives are disrupted when they are targeted by the group of cyber-activists protecting him. Meanwhile, Joan takes the advice of a friend and signs up for an online dating service.  At the end of the episode, it is revealed Sherlock is corresponding by letter with his imprisoned nemesis, Jamie Moriarty.[1]
Appearances
Edit
Jonny Lee Miller as Sherlock Holmes
Lucy Liu as Joan Watson
Aidan Quinn as Captain Tommy Gregson
Jon Michael Hill as Detective Marcus Bell
Natalie Dormer as Jamie Moriarty (voice)
Susan Pourfar as Emily Hankins
Christian Campbell as Ezra Kleinfelter
Ronald Guttman as Mr. Mueller/Elliot Honeycutt
Steve Kazee as Jeff Heinz
Laura Osnes Celia Carroll
Peter McRobbie as Milton Van Kirk
Adeel Ahmed as Cabbie
Anthony Fazio as Delivery Man
Chester Jones III as Bike Cop
David Hess as Darragh O'Connor
Joe Cassidy as Agent 1
Scott Whitehurst as Agent 2
Juan Carlos Infante as CSU Tech

What did you think of We Are Everyone?
6 minutes of footage was cut from this episode.[2]
The dollhouse pictures were based on a book called The Nutshell Studies of Unexplained Death.[3]
Episode stills
Edit
Behind the scenes
Edit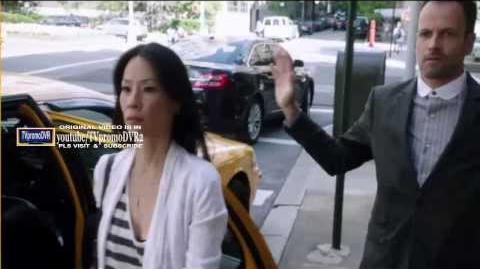 References
Edit
Ad blocker interference detected!
Wikia is a free-to-use site that makes money from advertising. We have a modified experience for viewers using ad blockers

Wikia is not accessible if you've made further modifications. Remove the custom ad blocker rule(s) and the page will load as expected.