An Unnatural Arrangement


Directed by
Christine Moore
Written by
Cathryn Humphris
Air date
October 31, 2013
Running time
43 minutes
Episode chronology
Previous
Ancient History
Next
The Marchioness
"An unnatural arrangement which forces its participants into an unhealthy monogamy."
―Sherlock Holmes on marriage.
An Unnatural Arrangement is the sixth episode of season two, and the thirtieth episode of the series. It was written by Cathryn Humphris, and directed by Christine Moore. The episode premiered on October 31, 2013.
Storyline
Edit
Plot synopsis
Edit
When Captain Gregson's home is invaded, Holmes and Watson work to find the masked gunman before he strikes again. Meanwhile, Gregson gives his team some insight into his private life.[1]
Appearances
Edit
Jonny Lee Miller as Sherlock Holmes
Lucy Liu as Joan Watson
Aidan Quinn as Captain Tommy Gregson
Jon Michael Hill as Detective Marcus Bell
Talia Balsam as Cheryl Gregson
Sarah Wynter as Beth Roney
Ted King as James Monroe
Kathleen Chalfant as Mrs. Clennon
Peter Hermann as Detective Craig Basken
Armando Riesco as Jacob Esparz
Christopher Burns as Coordinating Detective
Danny Rutigliano as Prisoner

What did you think of An Unnatural Arrangement?
Episode stills
Edit
Behind the scenes
Edit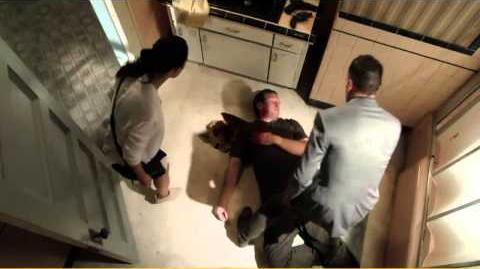 The running time of the director's cut of the episode is 43 minutes and 25 seconds.[2]
References
Edit