A Landmark Story

Episode still of Sebastian Moran and Sherlock Holmes
Directed by
Peter Werner
Written by
Corinne Brinkerhoff
Air date
May 2, 2013
Running time
43 minutes
Episode chronology
Previous
Dead Man's Switch
Next
Risk Management
A Landmark Story is the twenty-first episode of season one, as well as the twenty-first episode of the series. It was written by Corinne Brinkerhoff, and directed by Peter Werner. It premiered on May 2, 2013.
Storyline
Edit
Plot synopsis
Edit
Sherlock resumes his hunt for Moriarty when Sebastian Moran reveals that a man who was thought to be dead from a heart attack was actually on the list of intended victims from Moriarty.[1]
Appearances
Edit
Jonny Lee Miller as Sherlock Holmes
Lucy Liu as Joan Watson
Aidan Quinn as Captain Tommy Gregson
Jon Michael Hill as Detective Marcus Bell
Vinnie Jones as Sebastian Moran
F. Murray Abraham as Daniel Gottlieb
Roger Aaron Brown as John Douglas
Byron Jennings as Van Der Hoff
Helen Coxe as Hillary Taggart
Laurence Lau as Robert Baumann
Morgan Weed as The Girl with Rainbow Hair
Mark Diconzo as Uniformed cop
Tony F. Devito as Convict #1
Aaron Berg as Convict #2
Berto Colon as Will
Kristine Johnson as TV Reporter
Adam Godley as British Man (voice) (uncredited)

What did you think of A Landmark Story?
Singin' the Blues by Bix Beiderbecke is playing while Sherlock burns a doll in the fireplace.
This is the first episode featuring a recap sequence.
Craig Sweeny had to write an original Arsenal song for Sebastian Moran to sing in the episode. The show weren't allowed to use any of the real ones.[2]
"Some people without possessing genius have a remarkable power of stimulating it." is a quote from Arthur Conan Doyle's The Hound of the Baskervilles.
Every photo of A Landmark Story on this wiki can be seen here.
Sneak peek
Edit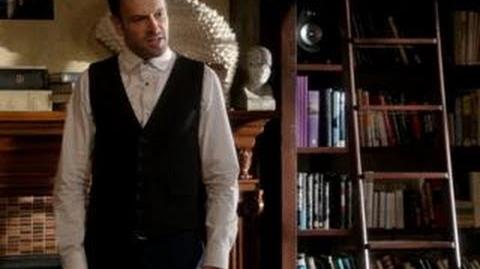 References
Edit